PVC Foam display panels and catalogue holders mainly free standing for both floor and counter top use, were appropriate 3mm acrylic is used for pockets etc. These have a wide range of uses and many varied applications. Generally produced in 3mm PVC Foam with all edges machined. Available in 6 primary colours plus white in both matt and gloss finish. Vinyl graphics, including Company logo's etc., can be supplied to suit individual requirements. We can also offer custom made displays to suit customer specifications and requirements.
The following gives an idea of the diverse range of shapes and sizes that can be produced from 3mm PVC Foam, whatever the application, there is a display to suit every need or design.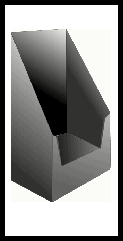 Please contact us to discuss any of the above or your individual design requirements, also for prices and delivery.

---
Copyright(c) 2005 pds-arden. All rights reserved.
sales@pds-arden.co.uk